Google Ads have recently provided online advertisers with a new feature. Nowadays, Pay per Click advertisers can track the phone calls which are generated by Google call ads.
The reality is, Google allowed advertisers to do call tracking earlier. However, PPC advertisers could only track the number of calls as well as the length of calls which were driven by Google Ads.
It's worth noting that the feature has been significantly improved. Today, advertisers have an opportunity to play and hear the calls that have been recorded. Google Ads obviously provide advertisers with much better call tracking opportunities these days.
Google's Free Call Recording Feature Vs Paid Call Tracking Solutions
Obviously, the call tracking feature makes Google Ads more competitive advertising platform. Now, advertisers don't have to use services offered by the 3-rd party call tracking providers.
Google's free built-in call recording solution is a big advantage for advertisers of small businesses. Most likely that they will give a preference to the Google's free tool. With such a great feature, business owners will be able to reduce their marketing costs.
As we've already said, Google's call tracking tool is free. However, the tool has its own drawbacks. It's important to know that Google Ads call tracking feature has some restrictions.
Google Ads track calls for 30 days only. That means that advertisers, who want to get the access to recordings for more than 30 days, need to consider paid call tracking services.
Google Ads can track US phone numbers only. So, advertisers will not be able to take advantage of Google Ads call tracking feature outside of the United States.
On the other hand, a lot of third-party call tracking providers work on the market today. Advertisers, who use Google Ads to promote large businesses, may decide to continue using the services provided by other call tracking platforms such as CallDigit.
How to Use a Call Recording Solution in Google Ads
Google Ads call recording feature is easy to use. You have to take the following steps in order to be able to make use of the Google's tracking feature:
Step 1. First of all, you have to enable the feature in Google Ads. Go to the Google Ads PPC advertising account and enable the call reporting feature.

Step 2. Also, you have to get the domain as well as URLs associated with your Google Ads verified.
The verification can be done in different ways:
Google Ads tag is integrated into website's code
Google Ads account is connected to Google Search console
It's up to you what verification method to use. Choose the verification method that's more to your liking.
Step 3. Finally, you have to turn on the call tracking option. Login to Google Ads account, go to Account Settings in your account and pick the Call Reporting section. After that, you'll see "Save call recordings for 30 days". Now, it's time to pick "on". Keep in mind that you can pick "off" anytime when such a need arises. In this case, nobody will manage to play any pre-existing recordings.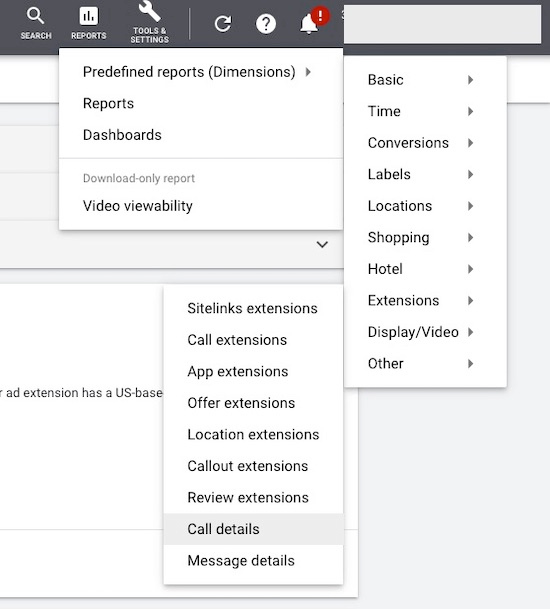 Step 4. Additionally, you have to accept Terms and Conditions.
Step 5. It's important to know that all of phone calls are recorded in the system. Once all calls have been recorded, advertisers will be able to play and hear audio files. You'll find it easy to get the access to the call recordings in Google Ads account.
Take advantage of Reports in the top menu of your Google Ads account. Go to Predefined Reports -> Extensions -> Call Details. Lastly, you have to add "Recording" column to the report. Now, you can play audio and hear your call recordings.
The Future of Google Ads Call Tracking Feature
Many business owners are happy to see that Google has recently launched its great call recording feature for the advertisers, who use the Pay-per-Click platform.
Right now, the Google's call recording system has become a free alternative to paid services provided by the third-party call platforms.
Google Ads call tracking feature is tested by so many advertisers these days. Many businesses choose to take advantage of the free Google's service instead of paying for call recording services provided by third-party companies.
It's expected that the popularity of the Google's free call tracking built-in solution will increase in the nearest future.
Do you need help with Google call ads? Contact us to get an initial free consultation! At Ariacal, we are always looking forward to helping you with any of your Pay-per-Click advertising needs!